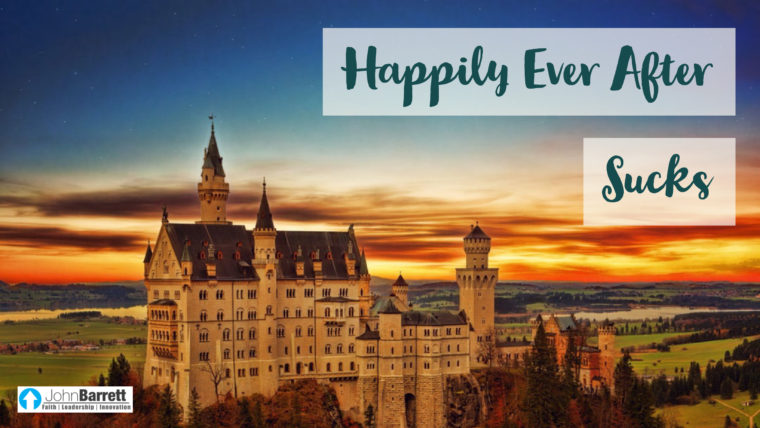 We have all heard it said, "…and they lived happily ever after…"
What a shallow ending! If happily ever after is all we are waiting for, we are missing out on something even better. Don't get me wrong…happily ever after is good…but it's not great. There's an ending…that is actually the beginning…that is far better than happily ever after could ever compete with. There is a greater story we could be living.
The pinnacle of our narrative should end with this…
"…and they lived eternally ever after…"
As followers of Christ, we live eternally ever after. The ending of this life is only the beginning of it all. We are in a dress rehearsal for the real story. The story of Jesus making everything beautiful; restoring us back to perfection.
Revelation 21:3-5a (NIV)

3 And I heard a loud voice from the throne saying, "Look! God's dwelling place is now among the people, and he will dwell with them. They will be his people, and God himself will be with them and be their God. 4 'He will wipe every tear from their eyes. There will be no more death' or mourning or crying or pain, for the old order of things has passed away." 5 He who was seated on the throne said, "I am making everything new!"
If we are going to experience life to the fullest, we have to start living with an eternally ever after mindset. We have to approach life with a long-term perspective. We have to see life as a means to an end…not the end in itself. Here are three things to think about when it comes to living eternally ever after…
1) View You Circumstances As A Lesson, Not A Penalty
Circumstances aren't happening to us, they are happening for us. Everything is a lesson to teach us something we need. We can't choose what happens to us, but we can choose how we respond to it. When you have an eternal perspective, you see the light on the other side of your challenges. You understand that, no matter what you face, it will not destroy you. Quit complaining about your situation, and start learning from it.
Romans 8:28 (NIV)

28 And we know that in all things God works for the good of those who love him, who have been called according to his purpose.
2) Be Patient On Your Journey
Life is not a short open sprint; it's a marathon filled with hurdles. If you get caught up in being restless and anxious, you are going to miss precious moments along the journey. Impatience causes us to become imbalanced. Life gets out of control when we start to rush things. God's purposes require radical patience. Understand patience is not just about waiting…it's about worshiping. Patience is not an inactive twiddling of the thumbs…it's an act of faith. It's about trusting God to be in control.
Psalm 46:10a (NIV)

"Be still, and know that I am God; 
3) Prepare Yourself Spiritually
Everything will burn up one day here on this earth. The only thing that remains is us. We don't get to take our jobs, money, cars, houses, and all the stuff we accumulated. What matters the most is the condition of our heart. If we are going to be working towards something in this life, let it be about the eternal things that matter. Become the person God is making you into. Display love and care to others in a way that reflects an eternal perspective. Prepare yourself by becoming all that God calls you to be. Prepare your heart for the long haul. Spend more time on who you are and what you do, than on what you have and what you want.
Matthew 6:19-21 (NIV)

19 "Do not store up for yourselves treasures on earth, where moths and vermin destroy, and where thieves break in and steal. 20 But store up for yourselves treasures in heaven, where moths and vermin do not destroy, and where thieves do not break in and steal. 21 For where your treasure is, there your heart will be also.