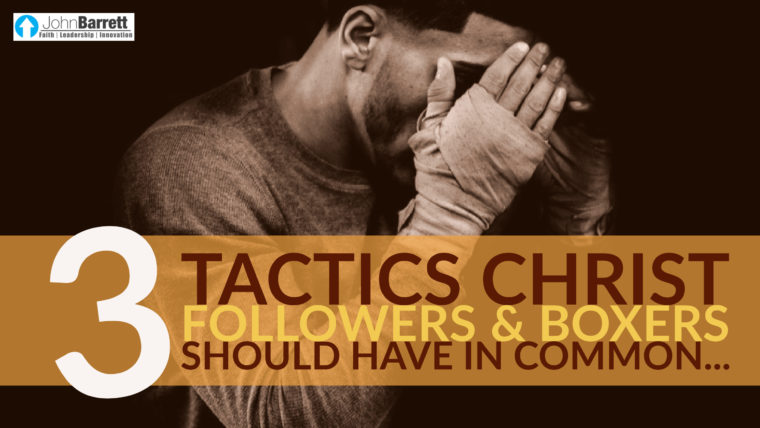 In my early twenties I worked with an amateur boxer at a shipping center. Each day that I came to work, he would share boxing tips with me that he was learning during his training. Looking back, I realized that some of the principles he taught me could apply to our spiritual fight as well.
Here are some of the things boxers and followers of Christ have in common…
1. The Fight Begins Way Before The Fight Begins
If we are going to win in life, we must understand that the battle is won outside the ring as much as inside the ring. Heavyweight champion Joe Frazier said, "You can map out a fight plan or a life plan, but when the action starts, it may not go the way you planned, and you're down to your reflexes—that means your preparation. That's where your road-work shows. If you cheated on that in the dark of the morning, well, you're going to get found out now, under the bright lights." Our fights will simply expose what we have been training for. We must be prepared before we step into the ring. If we take shortcuts and slack off, we will not be able to contend with life's challenges. You may have heard it said, "When preparation meets opportunity, there is success;" but the opposite, "When procrastination meets opportunity, there is distress," is true as well. Think about Noah when he faced God's ultimate request to build an ark in order to save humanity. God never told Noah when or how the earth would flood. He simply told him to be prepared by building a boat. By faith, Noah had to trust that God was preparing him for something spectacular without knowing any of the details. If Noah procrastinated because of his unbelief, he would have not only lost his own life, but the human race would have been lost as well. If he had waited until the first drop of rain to build the ark we would not exist today. He prepared for over 100 years by being faithful to build everyday.
My wife and I had a time in our life when we felt God was telling us to prepare for a geographical move. We did not know where God was calling us, or even knew how it would play out, but we felt we needed to pack most of our belongings except for the bare essentials. It was a little strange doing this since we had no reason to do this in the natural, but we knew something spiritual was about to happen. A few months later we received a call that changed our destiny. We were offered a position at a church half-way across the country, and within months, had to make the transition. Had we not been prepared in advance, we wouldn't have been able to move so quickly.
Preparing on the front end helps us be victorious on the back end. For example: when someone says or does something that hurts you, it is very hard to forgive that person in the moment. However, if we have already chosen to live with a forgiving mindset, we are prepared for the situation. Jesus chose to offer forgiveness to those who would ask for it long before the moment occurred. When people were caught in sin, He didn't say, "Let me think about it before I make my decision to forgive you. After all, it was pretty bad what you did." No, Jesus was prepared to offer forgiveness—no matter how bad the offense. Martin Luther King Jr. said, "Forgiveness is not an occasional act, it is a permanent attitude." That is the kind of preparation it takes to win the fight before the fight ever begins.
Psalm 144:1
Praise be to the LORD my Rock, who trains my hands for war, my fingers for battle.
Deciding to live by faith before challenging circumstances arrive in your life will prepare you to live victoriously. Understand that, in this fight, you will get hit; so preemptively choose to handle it God's way by being prepared.
2. Don't Stop Moving
You will never see a professional boxer step into the ring and stand still. They move in order to keep the blood flowing, position themselves better, and to be agile. The worst thing you can do in a spiritual battle is stop doing what you know you should be doing. Spending time in God's Word is often the first thing to go when we feel beat down. Then, we become consumed by our problems. From there, many people begin to isolate themselves from others and stop serving those around them. All of these unhealthy responses cause us to stop moving forward in faith. When we stop moving, we become the most vulnerable. Winston Churchill said, "If you're going through hell, keep going." The Prime Minister knew that whenever you stop moving, especially in a fight, you can easily get knocked out. But instead of retreating into our own fears and hurt, we must continue to advance even when we feel we cannot go on. The best thing you can do when you are hurting is to help someone else who is hurting. The best thing you can do when you are feeling down is to pick someone else up. What you make happen for others, God tends to make happen for you. When you keep doing what you know you should be doing, the day will come when you will be doing what you always should have been doing. You cannot fight complacency by being complacent, and you do not fight fatigue by remaining fatigued. Keep moving forward with your faith by staying in God's Word, seeking His presence, and surrounding yourself with those who will lift you up when you are weak. Never stop advancing no matter how tired you may be. Read Paul's encouragement to us about never giving up:
Galatians 6:9 (ESV)
And let us not grow weary of doing good, for in due season we will reap, if we do not give up.
3. Don't Go For The Knockout Right Away
Boxers who go in for the knockout as soon as the bell rings usually end up knocking themselves out later in the fight. Why? Because they did not pace themselves correctly and therefore ran out of energy. Boxing is all about controlling your rhythm. And rhythm is all about timing. The Bible encourages us to be strategic about our timing while we contend.
Proverbs 19:2 (NCV)
Enthusiasm without knowledge is not good. If you act too quickly, you might make a mistake.
Impatience can cause us to miss out on God's best. We win our fights by having endurance for the journey. Life is not a short open sprint; it is a marathon of hurdles. The more endurance we build up within ourselves, the longer we will last. Flash faith that only lasts for a moment is not real faith. Real faith is everlasting and it never gives up—no matter what. It causes you to stay strong in the battle round after round, however long it takes for victory. Remember, we are contending for our faith and not a one-time knockout punch. The word 'contend' means 'to grapple with;' and if we are without an enemy, then there would be no one with which to contend. Jude knew that contending was about wrestling with a real enemy who is throwing jabs at us each and every day. Contending requires us to have patience and endurance. Johnny Nguyen, founder of Expert Boxing, said, "Being able to relax in stressful environments allows you to make smart decisions and benefit more out of the situation. Slow down and look around so you can absorb everything. If you're always pushing yourself over the limit, you'll end up making yourself quit, and this attitude will show in everything that you do. You are your own worst enemy." Johnny's advice stands true for our spiritual life as well. It is like the old saying goes, "You get a chicken by hatching the egg, not by smashing it." Faith that patiently endures will hatch victory. Hang in there and never give up. Keep throwing punch after punch.
1 Timothy 6:12
Fight the good fight of the faith. Take hold of the eternal life to which you were called when you made your good confession in the presence of many witnesses.
---
* Taken from my book FAITHOLOGY: 12 ideas to rock your faith