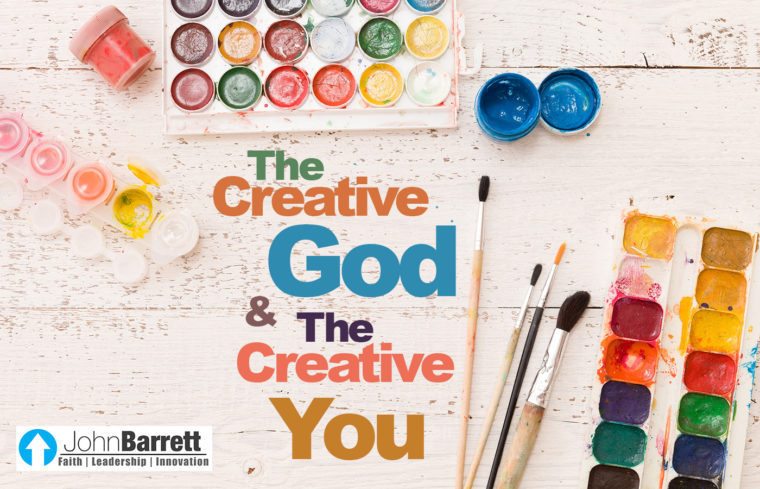 We serve the CREATOR GOD…He is literally the most creative because He is the creator. So the ramifications of this is that you and I are created in the image of God, this means we have access to unlimited creativity. Yet how many people truly feel creatively unlimited? Most people probably feel creatively limited, the complete opposite of who we truly are.
The reason we don't tap into our creativity is because we aren' tapping into the Creator. The more you drawer nearer to Creator God the more creative you will become. Your relationship with God determines your creativity in life. If I said you can go into a time machine and pick any creative person throughout history to spend one year with who would it be? We could list so many names that come to mind. Now let me ask you this…after spending one year with them everyday do you think you would be more creative? The answer is yes of course. Yet we have access everyday to THE most creative person ever…THE CREATOR! The real question is are you spending time with Him?
So here are 3 tips I want you to think about if you want to be more creative at home, at work, with your kids, your hobbies, your ministry, your projects, your skills, etc…
1) MAKE Time for God
You will never find time to do everything you want to do. Why? Because no one has ever found time lying around, ever! You don't find time…you make it. Your schedule should reflect your priorities in life. Most people's schedule reflect very little of what they want to do, and very much of what they have to do. There are 3 kinds of people when it comes to time…Victims, Managers, & Leaders. Be a leader of your time and schedule in your prioritize. You remember the old statement…if you don't prioritize your schedule, your schedule will prioritize you. You will only be as creative as the amount of time you set aside for it. 
2) Be SPECIFIC About Your Time With God
Though there are times to be still and just listen…we also need to learn how to approach God with requests.
Philippians 4:6 (NIV)

Do not be anxious about anything, but in every situation, by prayer and petition, with thanksgiving, present your requests to God.
The Bible says to approach the throne of grace with confidence.
Hebrews 4:16 (NIV)

Let us then approach God's throne of grace with confidence, so that we may receive mercy and find grace to help us in our time of need.
We become more confident when we know what we are asking for. The Bible also encourages us to make our requests known to God…this means we need to, at times, approach God with the desire to be more creative about specific things we are approaching Him about. Spend time with God about specific topics you are wanting His wisdom and direction in. When I sit down to write and put together teachings I spend time with God asking questions and thinking. This allows God to fill me with insight and wisdom about certain things I am working on. Are you going to God with your creative needs?
3) WRITE Down What God Is Giving You
You can't be creative without going through the process of creativity. The process of creativity is about working through the journey of small to big. What I mean by this is understanding that one idea, leads to another, and another, and before you know it the process has taken you from an acorn to a mighty oak tree. God gives us ideas as embryos. And it's through the maturing process that we wrestle through the stages of growth. This can happen over time or very quickly depending on the situation. But we need to be ready to write down everything that is coming to us and working through it. Every creative person throughout history had notebooks full of random ideas and thoughts. Make sure you are being intentional about writing down what God is giving you and being faithful with it. God will not give you more if you waste what He already gave you.