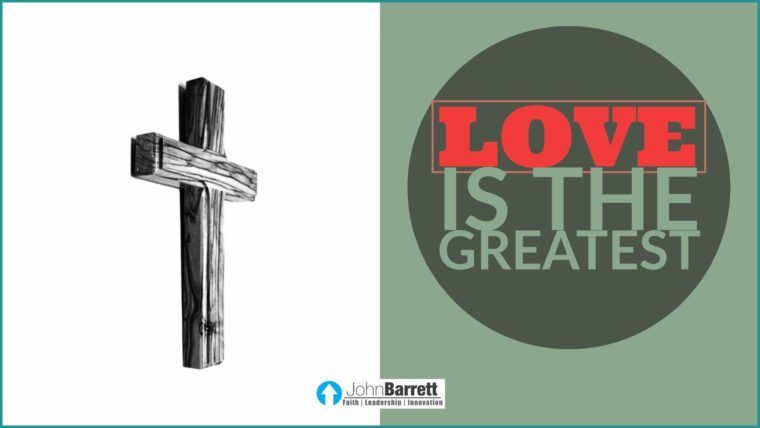 Mother Teresa said, "Spread love everywhere you go. Let no one ever come to you without leaving happier."
If there is a word that should define Christians, it is undoubtedly the word…LOVE. Being a follower of Christ revolves around the central idea of love. Love is what defined Christ, and love is what should define us as His disciples.
1 Corinthians 13:13 (NIV)

And now these three remain: faith, hope and love. But the greatest of these is love. 
How we love is a direct line to who we are for the world. We as Christians are defined by love. We are God's representatives of love to one another. Martin Luther King Jr said, "People are often lead to causes and often become committed to great ideas through persons who personify those ideas. They have to find the embodiment of the idea in flesh and blood in order to commit themselves to it." What a responsibility we have been given. God is love, and we are commissioned to display that love. People should see Christ when they see us.
So what is love? How do you take such a powerful concept and break it down? To define love, I want to take a look at four ingredients that I believe make the word L.O.V.E.:
L = Listening
You don't love someone if you don't listen to them. In fact, the more you listen to people the more they feel loved by you. If you truly want to show someone how much you care then listen to what they say. President Theodore Roosevelt said, "No one cares how much you know till they know how much you care." When others feel they have a voice, they feel they have a place.
James 1:19

My dear brothers and sisters, take note of this: Everyone should be quick to listen, slow to speak and slow to become angry…
O=Optimism
Author Gordon MacDonald said, "You can tell whether you are becoming a servant by how you act when you're treated like one." Don't serve others with a frown on your face or a bad attitude. Nothing is worse than someone who is helping but doesn't really want to. If you're going to love others, be excited about the opportunity to lift them up. Don't walk around complaining about what you are doing for others. There is nothing that makes someone feel as low as when they feel they are a burden. Serving is not a burden…it is a privilege. Jesus didn't serve with a grumpy attitude so how dare we ever find frustration in serving others.
Philippians 2:5-8 (NIV)

In your relationships with one another, have the same mindset as Christ Jesus: 6 Who, being in very nature God, did not consider equality with God something to be used to his own advantage; 7 rather, he made himself nothing by taking the very nature of a servant, being made in human likeness. 8 And being found in appearance as a man, he humbled himself by becoming obedient to death—even death on a cross!
V=Volunteering
Be the one to step up and take the initiative to love. Do it without expecting anything in return. Volunteer yourself without being forced or required to. John Bunyan said, "You have not lived today unless you've done something for someone who can never repay you." Loving someone when you don't have to is the purest form of love. Everyone is impacted when they see a voluntary love. When Christians change their mindset from "what can I get?" to "what can I give?" we will become more and more valuable to those in need.
E=Endurance
Arthur Ashe said, "True heroism is remarkably sober, very undramatic, not the urge to surpass all others at whatever the cost but the urge to serve others whatever the cost." Don't stop serving. I have met many people who feel they have "paid their dues" and no longer need to serve. They think they've somehow grown out of the servant role. But you never move beyond being a servant no matter who you may be. It is not something you do for a season and then graduate from. Serving is a life-long endeavor; it is a lifestyle of valuing people.
Don't lose heart. Keep on keepin' on when it comes to loving others. The longer we stay in the game of love, the more we will win for the Kingdom.