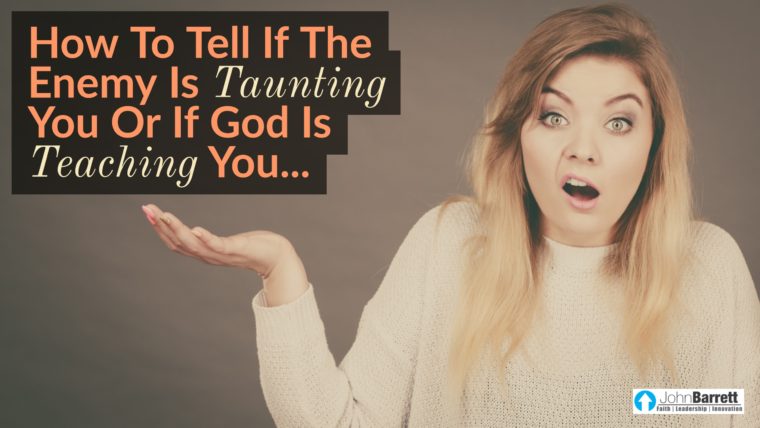 We all struggle with knowing the difference between the enemy taunting us and God teaching us. The tension between knowing if our situation is a trial we should escape or a testing we should embrace. We certainly don't want to give the enemy blame for something God is doing, and we don't want to give God the blame for something the enemy is doing.
So how do we know if we are being taunted or taught?
1) The Enemy Condemns, But God Convicts
The moment you start feeling condemned is the moment you left God's plan. God will never condemn you when Jesus has forgiven you. You can't be condemned for something Jesus already crucified. Condemnation is the taunting of the enemy, not the leading of the Holy Spirit.
Romans 8:1-4 (NIV)

Therefore, there is now no condemnation for those who are in Christ Jesus,2 because through Christ Jesus the law of the Spirit who gives life has set you free from the law of sin and death. 3 For what the law was powerless to do because it was weakened by the flesh, God did by sending his own Son in the likeness of sinful flesh to be a sin offering. And so he condemned sin in the flesh,4 in order that the righteous requirement of the law might be fully met in us, who do not live according to the flesh but according to the Spirit. 
Jesus was condemned so that you never have to face condemnation. If you feel worthless and unwanted by God, it's ultimately the enemy taunting you. God will never condemn you, but instead, He will convict you. And conviction will lead you to righteousness by love. It's the love of God that draws us to change. Conviction is the drive to get better, accompanied by the forgiveness of your mistakes. Conviction moves you forward; condemnation pulls you back.
Romans 2:4 (NIV)

Or do you show contempt for the riches of his kindness, forbearance and patience, not realizing that God's kindness is intended to lead you to repentance?
2) The Enemy Reminds Us Of Our Past Mistakes, But God Reveals Our Future Possibilities
The enemy wants us to get stuck in the past drowning in a sea of regret. He will throw every sin and ugly thing we've ever done or thought in our face. But God doesn't dwell on the past; He reveals a greater future. He shows us the path to repentance and recovery through His love…and there's always a path to hope.
Psalm 103:8-12 (NIV)

The Lord is compassionate and gracious, slow to anger, abounding in love. 9 He will not always accuse, nor will he harbor his anger forever; 10 he does not treat us as our sins deserve or repay us according to our iniquities. 11 For as high as the heavens are above the earth, so great is his love for those who fear him; 12 as far as the east is from the west, so far has he removed our transgressions from us.

Hebrews 8:12 (NIV)

For I will forgive their wickedness and will remember their sins no more.
Jesus came to make a way for us to live out the future He designed for us. He will reveal His future plans for us rather than holding us victim to our past. His forgiveness offers a way into hope. We must never allow our past mistakes to dictate our future possibilities. We should fix our eyes on what's ahead of us, not on what was behind us. If you are being reminded of your past more than you are being revealed of your future, it's not God.
Philippians 3:13 (NIV)

Brothers and sisters, I do not consider myself yet to have taken hold of it. But one thing I do: Forgetting what is behind and straining toward what is ahead, 
3) The Enemy Pulls Us Away From Others, But God Calls Us To Others
The greatest trick of the enemy is to get you to pull away from being in community with others. If he can separate you from the pack, he can devour your faith easier. That is why we naturally want to pull away in our struggles rather than seek out help. The sin nature in us calls us to retreat in despair, but the Spirit calls us to relationships of hope. The worst thing we can do when we are struggling is to get alone. We were created for community. God's Kingdom is built through community. If you feel a need to disconnect, for whatever reason, you are being taunted by the enemy. God will never call you to forsake community.
Hebrews 10:24-25 (NIV)

And let us consider how we may spur one another on toward love and good deeds, not giving up meeting together, as some are in the habit of doing, but encouraging one another—and all the more as you see the Day approaching.

1 John 1:7 (NIV)

But if we walk in the light, as he is in the light, we have fellowship with one another, and the blood of Jesus, his Son, purifies us from all sin.
Never allow the enemy to taunt you and pull you away from pursuing God's best. God will teach you with love, mercy, and discipline, but He will not mock you with condemnation, past mistakes, and isolation. If you recognize the handprint of the enemy taunting you, begin to speak the truth of God's Word in your situation. God has greater plans for you than you could ever even have for yourself. Shake off the dust and get moving into your future!