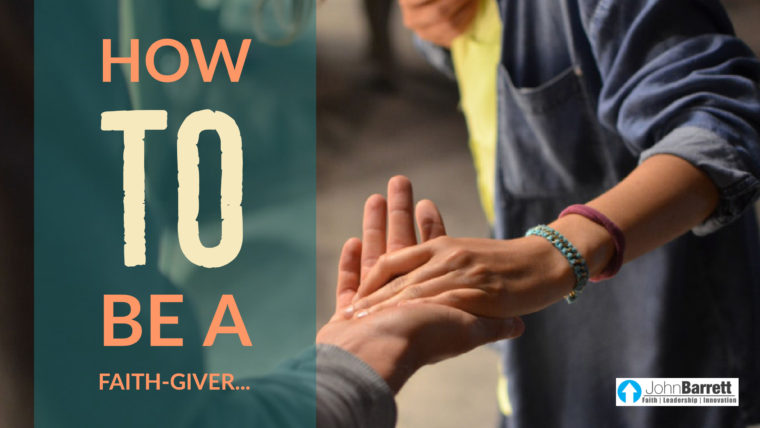 Faith is not just about having it, and using it…it's about giving it away as well. We fall short in the complete work of faith if we are not sharing it with others. It's great to receive something, but it's even greater to give something. In fact, numerous studies have even shown us that helping others actually releases neurochemicals such as dopamine, serotonin, and oxytocin causing us to feel great. Psychology experts call this "helpers high." But it is all rooted in the spiritual principle that what we make happen for others God makes happen for us.
Luke 6:38 (NIV)

Give, and it will be given to you. A good measure, pressed down, shaken together and running over, will be poured into your lap. For with the measure you use, it will be measured to you.
The more we help others the more it helps us, and the more it helps us, the more we help others. It is a feedback loop of blessings. And it all starts with taking a step of faith to share your faith. The more you give, the more is given to you. When American psychologist Dr. Karl Menninger was asked, "What would you advise a person to do, if he felt a nervous breakdown coming on?" Assuming he would expound on an intensive treatment plan his response shocked them. He said, "Lock up your house, go across the railway tracks, find someone in need, and do something to help that person." Truly when we take the focus off of ourselves and place it on another it creates a win-win situation. 
There are 3 ways we can share our faith…
1) By What We PRAY
Our prayers can help others. They have the ability to bring hope to tough situations. We see all throughout scripture people praying for other people. We see them standing in the gap between their situation and God. Jesus took the time to pray for us and the Bible says He is interceding for us even now.
Romans 8:34b (NIV)

Christ Jesus who died–more than that, who was raised to life–is at the right hand of God and is also interceding for us.
The Greek word for interceding here is entugchano. It was sometimes used of bringing a petition before a king on behalf of another. What an amazing thought…Jesus is petitioning to His Father on our behalf. If Jesus is petitioning on our behalf, we need to be doing the same for others. Ask for them, believe for them, and have faith for them. There is someone today that needs your prayer for tomorrow, so take the time to share your faith.
2) By What We SAY
Our words have power. Tremendous power. Think about it God created the universe by speaking it into existence. He used words to create all things. He could have just thought it, but instead He spoke it.
Proverbs 18:21 (NIV)

"The tongue has the power of life and death…"
Our words have creative or destructive power within them. They are self-fulfilling prophecies about the future. The Bible is clear that the tongue is one of the most powerful forces on earth. Nowhere else does it say something has the power of life and death in it. We have the ability to help lift faith in others or to lower faith in others. Words always produce results: good, bad, or indifferent. Words are constantly at work effecting outcomes. Once something is communicated, it is out there. The wave of impact that word has will continue to carry momentum long after it is heard. This is why we play back words and conversations in our heads long after the conversation has been finished. Author Napoleon Hill said, "Think twice before you speak, because your words and influence will plant the seed of either success or failure in the mind of another." Words are truly like seeds that will eventually produce sweet fruits or bitter roots. As faith givers, we must be very careful and very intentional about the words we communicate.
3) By What We PAY
Financially giving to another can open the door for their faith to rise up. I know this as a fact. Years ago, my wife was on her way to church for our Sunday morning service and she felt the urge to give some money to a single father in our congregation. When she got to church she sought me out, as I was getting ready for service, to fill me in on this strong feeling she was having. I totally agreed as I knew he was a single father of three and was working long hours just to pay the bills. She then asked me how much we should give and I said, "I guess $100. Does that sound good?" She quickly responded, "That's what I felt like we should give him." So, she got an envelope and put some cash in it, and asked someone to anonymously give in to him on our behalf.
Here's where it gets good…that same morning the single father woke up feeling like he needed to give $100 to someone else in the church in need. He really wrestled with it since he had nearly nothing to give and that would deplete the majority of his money for the week. But he couldn't shake the urge to give it away to this specific person that was on his heart. Taking a leap of faith and going all in, he came to church and gave the money to the person and basically said, "God I trust you to provide." Well…guess what happened? Just after he gave his money away he received an anonymous envelope with exactly $100 in it. He nearly couldn't believe what had happened. As fast as he gave it away, God showed up for him and replenished his resources. It was an experience that raised his faith to a new level. I know because he got up and shared it with the church that morning as he couldn't hold his gratefulness in. When he shared it and church my wife and I were blown away. He never knew it was us, but we got to see the hand of God in detail through the whole process.
What you give away could be the answer that someone was praying for. Literally, you become the hands and feet to show them God's provision for their situation. When you share of your treasures it raises the faith in others.
Matthew 10:8b (NIV)

Freely you have received; freely give.